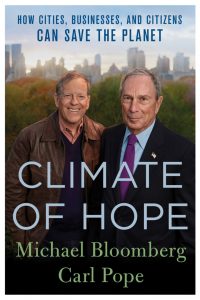 Michael Bloomberg and Carl Pope have written an informative and compelling book about climate change and our opportunity to slow and halt its progression. Throughout it, the authors note the importance of philanthropy moving both public policy, and public opinion—as evidenced by the actions of Bloomberg Philanthropies, which has offered up to $15 million to support the operations of the UN Framework Convention on Climate Change Executive Secretariat, including its work to help countries implement their commitments under the 2015 Paris Agreement on climate change.
I was not familiar with Carl Pope, former executive director and chair, of the Sierra Club, but I am a huge fan of Michael Bloomberg, former New York City Mayor, and founder of Bloomberg L.P. and Bloomberg Philanthropies. These two men, while coming from different worlds and sometimes different opinions, came together around this issue with the optimistic belief that we have the solutions necessary to make the world healthier and more prosperous.
This paragraph from the last chapter, titled "The Way Forward," encapsulates the spirit, and hope of the book: "We can stop global warming. Not by slowing economies but by speeding them up. Not by depending on national governments but by empowering cities, businesses, and citizens. Not by scaring people about the future but by showing them the immediate benefits of taking action. If we accomplish this, we will be healthier and wealthier. We'll live longer and have better lives. We'll have less poverty and political instability. And while we are at it, we'll pass on to our children and theirs a brighter future."
The book is not all rosy and it gives the facts needed to understand the issues, which is important to better understand the solutions. For example, there are some highly technical pages devoted to the sources of climate change, which include methane, nitrous oxide, halocarbons, black carbon particles and two different sources of CO2: fossil fuels/industry and forestry/land use. These sources are a result of industry; fossil fuel production; electricity and heating production; agriculture, forestry and land use; building heating and cooling; and transportation. The stakes include rising seas, severe heat, drought, and other consequences.
To me the most exciting aspects of cleaning up the planet are the positive economic implications. More clean energy jobs are being created every day. The circular economy is showing how products are being designed with the afterlife in mind. Buildings are being built smarter and cars are running on batteries. Agriculture has better systems for how we grow food using less water and reducing methane and CO2 emissions. The green economy is booming.
"Cooler heads can produce a cooler world," write Bloomberg and Pope. "National governments are not the best places to create these solutions. Rather, it is the mayors, CEOs, entrepreneurs, activists, concerned citizens, and other local actors who truly have the power to win the battle against climate change in ways that will also generate economic growth and improve public health—and many, in fact, are already making substantial progress."
While the US Federal Government is pulling out of the Paris Agreement (COP21), businesses and local governments are staying the course, exemplified by Bloomberg Philanthropies' offer. It is critical for the future of the human race that we listen to and take care of Mother Earth. Companies are partnering with nonprofits such as The Nature Conservancy and Conservation International, using their philanthropic dollars to address various aspects of climate change. Climate of Hope provides a roadmap of what needs to be done and how to approach the issues. Much work is already taking place, but we have a long way to go. We need to all start the journey now and there are few better places to start than in the corporate philanthropy world, where funding and partnerships can be unleashed to make huge strides.